PATIO SHOW: An Evening of Americana with My One And Only & Wyatt Espalin
Tickets
My One and Only & Wyatt Espalin provide an evening of Americana music on The Grey Eagle patio stage on Thu 4/22. Reserved seats on sale now
PATIO SHOW
5 PM DOORS // 6 PM SHOW
ALL AGES
RESERVED TABLES
SOCIAL DISTANCING GUIDELINES IN PLACE
"Southern-Soul and Curious-Grit"
Emotionally-honest lyrics will bid you to wander through hidden scenes in their lives, accompanied by raw vintage guitars and the intimate harmonies that only life-long lovers could discover. With their polar-opposite musical backgrounds, Kassie and Benjamin meld old-school country, singer-songwriter, and alternative folk-rock into a sound that can only be described as "Southern-Soul with a heap of Curious-Grit". As to sound, the Americana duo is driven by a racing-striped acoustic guitar (with some family history) and a suitcase kick-drum, but the bold vocal harmonies seal the deal. Kassie and Benjamin's voices intertwine seamlessly, roaring with angst at moments, and creating moments of sweet delicacy at other times. Presented the "Discovery Award" by acclaimed music critic Robert K. Oermann (Nashville's Music Row Magazine), My One And Only declares performance as their love-share to the world.
"I love these guys. If their fun upbeat songs don't seal the deal for you, their never ending onslaught of bold harmony is undeniable." Andrija Tokic (Alabama Shakes), Grammy Award-nominated producer.
With the Ocoee River in East Tennessee as the backdrop, and North Georgia on the horizon, Wyatt Espalin's debut album, Songwriter/Singer (2015), was born. Entertaining audiences in his hometown of Hiawassee, Georgia as early as age eight, Wyatt's passion for music was obvious, even from the music barn stage built by his grandfather on the campground where Wyatt was raised. He and his brother Matt were known as "The Fiddling Brothers." While Matt hung up his fiddle and bow after high school, Wyatt was just getting started. Armed with a guitar and a desire to write songs, he paired with his friend, Cobi Ferguson to form the acclaimed Americana duo, Trees Leave. Combining electric guitar with traditional bluegrass roots led to a noticeably unique sound and a growing fan base. Having years of touring under their belts and two successful albums, Run (2008) and The Gospel of Hurt (2010), it was time for Cobi to settle down, and Wyatt to find a new setting fit for a more personal level of songwriting. So alone began his sabbatical to the Ocoee River. While working as a raft guide and caring for his ailing Granddaddy, Wyatt began writing the songs for his debut album. His songs have garnered much attention winning the New Song Songwriting competition at the acclaimed L.E.A.F. festival in 2014. He also placed twice as a finalist in the Chris Austin Songwriting competition at Merlefest (2009, 2019), the Rocky Mountain Folks Festival Songwriting Competition (2014, 2019) and Eddie's Attic Open Mic Shootout (2014, 2015). Wyatt won 3rd place at the 2019 Songwriter Serenade and is a finalist for 2020. Performing solo or traveling with a revolving set of talented musicians as Trees Leave, Wyatt Espalin has found a way to continue writing and performing these songs that have longed to be free; to be pardoned, like the river.
WINNER: 2014 LEAF Festival New Song Singer-Songwriter Competition, REGIONAL FINALIST: 2014, 2014, 2019 Rocky Mtn. Folks Festival Songwriter Showcase, FINALIST: 2014 & 2015 Eddie's Attic 40th & 41st Bi-Annual Open Mic Shootout, FINALIST: 2009 & 2019 Chris Austin Songwriting Competition-Merlefest 3rd Place Winner-John J. Jarrard Songwriting Competition 3rd Place Winner-2019 Songwriter Serenade and 2020 Finalist in the Serenade!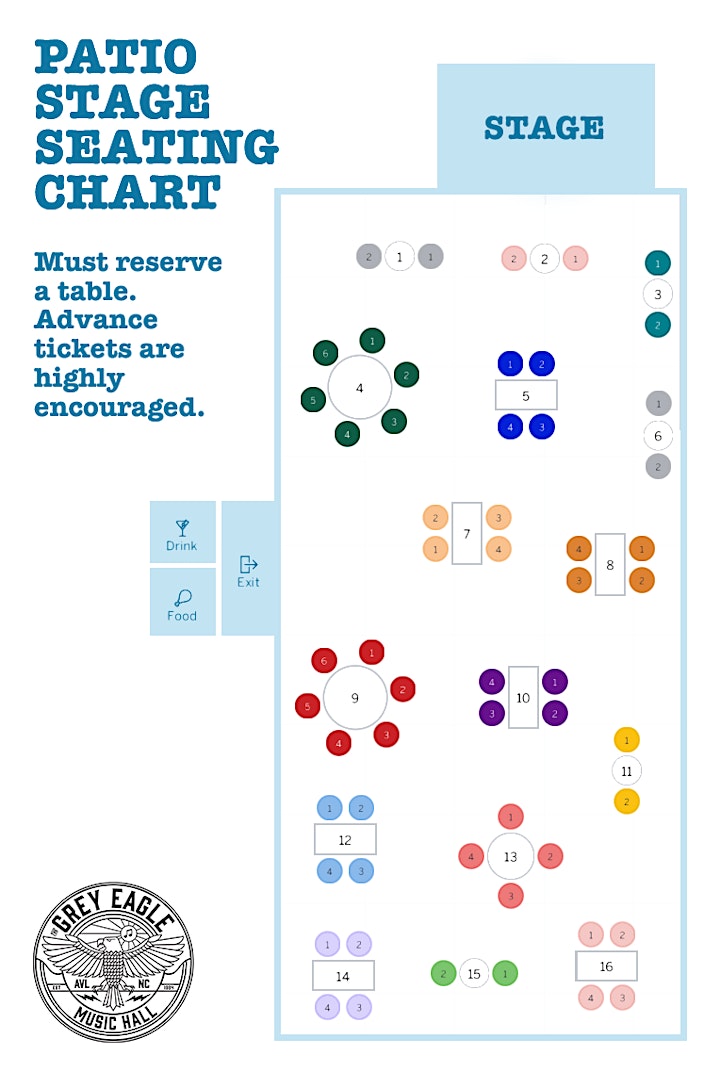 Tickets