PATIO SHOW: Aaron Price
Tickets
Aaron Price plays The Grey Eagle patio stage on Saturday April 3rd! Reserve your table today for the ALL AGES, socially distanced show.
PATIO SHOW
6 PM DOORS // 7 PM SHOW
ALL AGES
RESERVED TABLES
SOCIAL DISTANCING GUIDELINES IN PLACE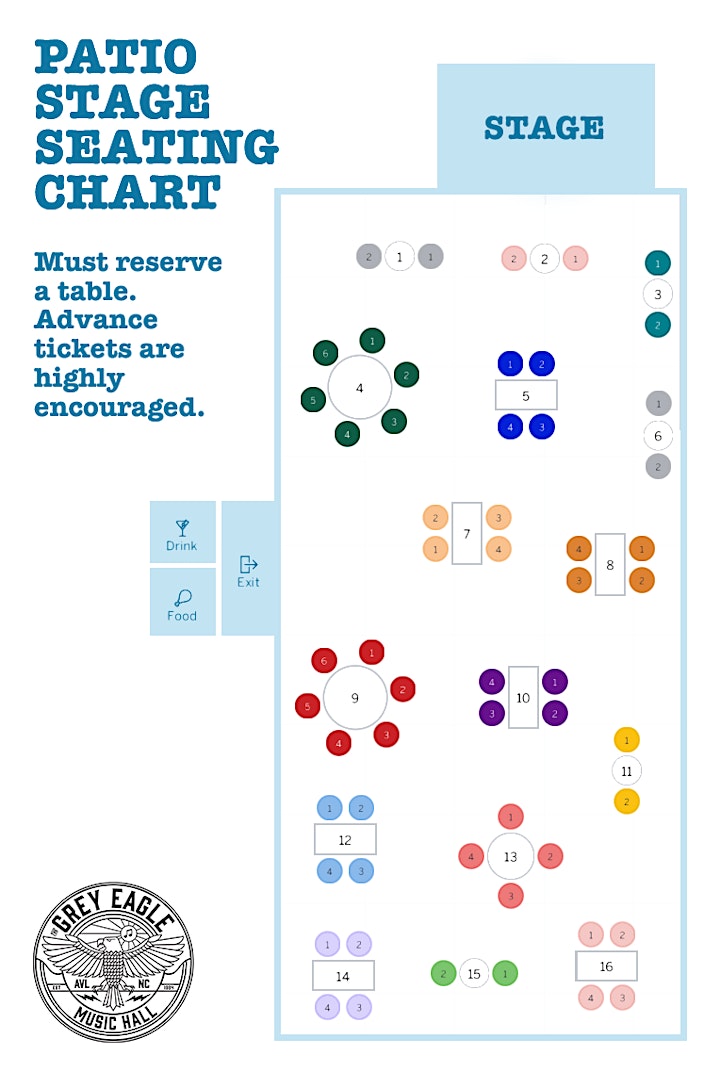 As you prepare to board the spacecraft LP Voyager, fellow Space Traveler, it might help to know that your captain is also a musical shapeshifter.
For some two decades now, brilliant musical activities, all associated with the name Aaron Price or the initials AP, have grown like kudzu in and around Asheville, NC. In fact, so many musical projects and artifacts bear this name that suspicions arise: surely there must be two, three, or even four Aaron Prices.
A few snapshots in this musical FBI file: a loose-limbed electric guitarist playing Charles Mingus's "Cumbia & Jazz Fusion" under a summer festival tent; a bespectacled pianist plinking out the blues with Peggy Ratusz; a painted-face keyboardist rocking out David Bowie tunes with the Wham Bam Bowie Band; a scruffy bassist holding down the low end for George Terry & The Zealots.
Highly suspicious. Even factoring in Malcolm Gladwell's 10,000 hours theory, the idea that one accomplished musician could do so many things, and so many things well, stretches credulity.
You mean to tell me, Secret Agent, that the same Aaron Price who wields a Les Paul with Kill the Clique is the same Aaron Price who improvs piano accompaniment for poets Caleb Beissert and Keith Flynn? And that is the same Aaron Price who, as co-owner of Collapseable Recording Studio in the early '00s, recorded and produced virtually every Asheville band and musician of note, from Stephanie's Id to Valorie Miller to Malcolm Holcombe? And for years provided the West Asheville Presbyterian Church with its beautiful piano and organ hymns? Yes, that one and the same Aaron Price. Your Voyager captain.
Of course, diverse musical talents, even as diverse as AP's, do not guarantee that X factor of soul, inspiration, magic, whatever you want to call it. There is nothing written in the book of talent that says if you can play an arpeggio then you can thereby write a song that people want to hear more than once. Or pilot a spacecraft.
Which brings us to perhaps the most noteworthy of AP's musical virtues: his songwriting. All through his decades-long stretch of supporting, encouraging, and lifting up fellow musicians and bands with his good will, humor, and virtuosity, Aaron Price has been honing his craft and developing his own sound.
The Great Hunker Down of 2020 has given Price opportunity, when he hasn't been lifting spirits (and inspiring awe) on Facebook Live with ideal-jukebox home performances on guitar and piano, to take stock, listen back through some old demos, and polish up some tunes that awaited proper attention. Price released a number of largely unheralded and underheard solo gems over the years (Glass Opera, anyone? Bouquet?), but he was woefully underrepresented in the modern streaming and vinyl mediascape. His daughter smartly urged him to take some lockdown time to address that situation.
The result is Voyager, a seven-song collection of originals that future scientists might discover boosts both the immune and the happy systems.
Voyager is sky-centered and illumined by starlight and mad moonlight. Its
characters—love-seeking, love-sharing, love-torn—kiss under the stars, hear new
sounds in thunderbolts, and dream themselves into comet tails. They ride spaceships and relationships into orbit. They hear radio signals, heavenly hosts, and demon angels; they weather storms; they embrace the sea and sky.
Smart pop rock and impressionistic piano balladry comprise the heart of Voyager's
sound, with Price's agile tenor stamping the songs' DNA with indelible vocal melodies. "Come of This" and "Brand New Sound" offer infectious hooks, wordplay and soundplay galore, while the epic title track, which features expert harmony vocals from Price's daughter Lilah, soars into a thrilling crescendo of whimsical internal rhyme ("Or I will stop you tonight because the weather's just right / And I'm feeling lucky and winsome") and E-bowed guitar lines.
A middle journey of three tunes opens a window to the stars and light years. "Stars and Making Out" and "The Promise" are modern tone poems, giving musical flight to lyrics by Justin Blackburn and Ted Pope, respectively. "Everybody's Number," meanwhile, steps tenderly into a summertime romance with a beautiful Hammond organ part providing a bed for a silvery guitar solo.
On the return trip final cut, "I Flew Over San Francisco" floats on clouds of cascading piano notes and warm trumpet melodies played by Justin Ray. If the love affair remains earthbound ("So I flew over San Francisco to get between you and the sun"), at least the music flies.
How to touch down this insufficient description of a singular work that will only reveal itself upon listen? Maybe by coming down from the skies back to earth for a minute.
In the credits montage of the British TV comedy The Detectorists, a visual cross
section of earth reveals strata of history just beneath the feet of the hapless wielders of metal detectors. The treasure is literally within their grasp, if they just can persevere through the dross of soda can ring pulls and littered bottle caps and keep digging. Similarly, Aaron Price's original songs have been nearby hidden treasure for too long. Voyager isn't a dagger or a belt buckle left by Saxons or Celts, but a seven-jeweled musical scepter with an orb shaped like a spacecraft, one made in the here and now, right here in Asheville, NC, USA, Earth, Milky Way.
And you have found it. Treasure in the skies, treasure under our feet. That means it's time to dance the gold dance. And then prepare for lift off.
Tickets