BUDOS BAND {at Asheville Adventure Company}
Tickets
Our bothers BUDOS BAND play the inaugural show at The Grey Eagle's new outdoor stage at Asheville Adventure Company (521 Amboy Rd) on 7/30!
Long In The Tooth was recorded in just five days at Diamond Mine Studios in Queens, NY. After one listen, you might expect a full orchestra behind the curtain, instead, you'll find eight ruthless mavericks – Brian Profilio , Daniel Foder , Tom Brenneck , Mike Deller , Jared Tankel , Andrew Greene , Dave Guy , Rob Lombardo . The band occupies a unique place in the musical stratosphere. While they themselves have maintained a timeless and unique style unaffected by musical trends, the signature Budos sound has been sampled by Panic! At The Disco, Black Eyed Peas, and Earthgang to name a few. Notable fans range from Madonna (who loved them so much she invited them to perform at her birthday party), rock God Iggy Pop, and fellow Staten Island musicians, The Wu-Tang Clan.
The Budos Band had reached a critical high with Budos V in 2019. Debuting at #1 on Billboard Heatseekers chart, their fifth full-length was applauded by both new and life-long Budos fans and masses of press including NPR All Songs Considered, Rolling Stone, and KERRANG!, which quite fittingly described them as "booty-shaking funk that sounds like Satan spreading his wings."
Twenty-five years ago, the actor and singer Seu Jorge began a determined rise from the slums of Rio de Janeiro. The band he formed with a group of friends, Farofa Carioca, released an important album, "Moro no Brasil" ("I Live in Brazil"), a danceable yet probing portrait of life amid Rio's crime, racism and poverty. Seu Jorge was the group's obvious standout — he sang samba, reggae, funk and soul with swing, and rapped with theatrical expressiveness.
One of his biggest fans was Rogê, an aspiring samba-funk singer-songwriter from well-to-do Arpoador, a neighborhood that borders Ipanema. Having haunted Farofa Carioca's shows, Rogê was stunned when Seu Jorge, who he'd never met, showed up at one of his gigs. "He stood right in front of the stage," he recalled in a recent interview, "gave me his hand, and said, 'Hi, Rogê, how are you?'"
For all their differences, the friendship still thrives. Now 49, Seu Jorge (born Jorge Mário da Silva; he has said his stage name means Your Jorge) is an international film and pop star — he's best known to United States audiences for his onscreen work in the 2002 movie "City of God" as well as in Wes Anderson's "The Life Aquatic With Steve Zissou," for which he performed David Bowie songs in Portuguese. His hits are feel-good dance tunes, but he has the brooding presence and mournful, bloodshot eyes of a man who has seen too much. The 44-year-old Rogê (born Roger José Cury) is known almost exclusively in Lapa, Rio's downtown night life hub. At Carioca da Gema, the club where he reigned for a decade, his high-octane samba singing and bright spirits kept crowds dancing for hours.
"He's a special person to me," Seu Jorge said in Portuguese last week. "He's a composer I saw grow."
This event is rain or shine. Please follow social media for weather alerts, delays or updates.
CLEAR BAG POLICY :: To reduce staff contact with guest belongings, we have implemented the following bag policy: bags must be clear plastic, vinyl or PVC and can not exceed 12" x 6" x 12" in size. Also allowed are small purses or clutches that are no larger than 4.5" x 6.5". Parenting bags, and medical bags are permitted. All bags are subject to search.
PARKING & DIRECTIONS :: Parking/shuttle will run from Sun Heating Supply (223 Amboy Rd). Please park all the way at the top of the hill. This parking area is just a short walk to the venue, but there will also be a shuttle operating to help get everyone to the venue.
PREMIUM PARKING :: There will be a limited number of premium parking spaces available on-site for $10 on the day of show. Premium parking is first come, first serve and is located at 521 Amboy Rd.
TICKETING & CHECK-IN :: On the day of the event there will be a check-in setup at 521 Amboy Rd. To help move lines along, please have your ticket AND I.D. ready!
BIKING & RIDE SHARE :: We strongly encourage ticket holders to carpool, bike or use a rideshare service (i.e Uber, Lyft). Racks will be available or those biking in.
FOOD & BEVERAGE :: Food and beverages (alcoholic and non-alcoholic) will be available for purchase on-site. Grills, open fires, and the like are not permitted. Underage drinking will not be tolerated. Drink responsibly and have a designated driver.
PAYMENT OPTIONS :: While we do plan to accept payments via debit/credit card, the internet can be a bit spotty and for the fastest service cash is highly encouraged. There is NO ATM at the venue.
CHAIRS & BLANKETS :: Chairs and blankets are allowed, but we ask those using these items to use the perimeter of the field.
DON'T BRING THESE ITEMS ::
No non-clear bags or purses (see bag policy)
No professional photography or flash
No outside food or beverages
No pets or animals (service animals OK)
No illegal substances, you will be asked to leave immediately
No fireworks, weapons, or other dangerous items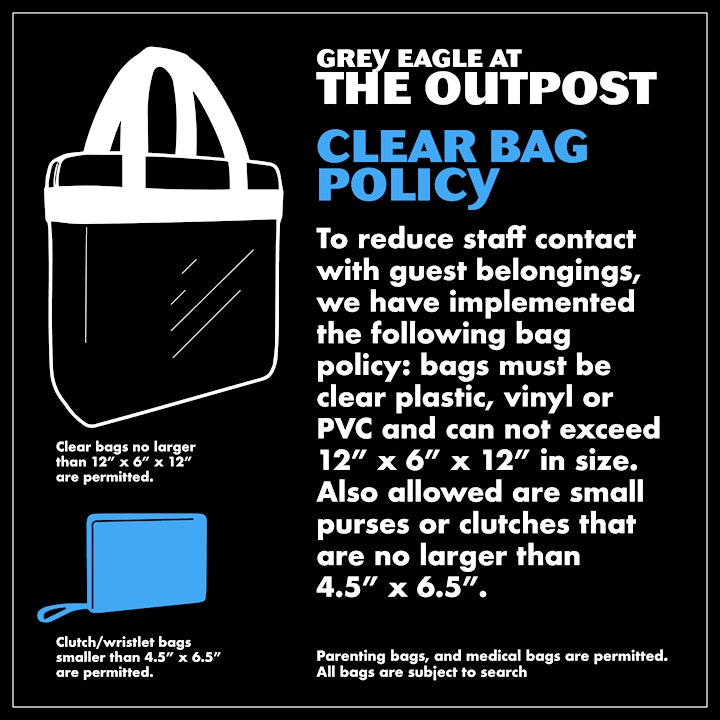 Tickets