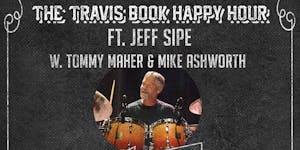 Presented by Americana Vibes
Travis Book Happy Hour featuring Jeff Sipe
Be a part of our live audience for The Travis Book Happy Hour featuring the one and only Jeff Sipe at The Grey Eagle on February 9 at 7pm!
LIMITED NUMBER OF IN-PERSON TICKETS ON SALE NOW!
SEATED SHOW
7PM SHOW (6PM DOORS)
DONATIONS ENCOURAGED
VIRTUAL TIP JAR : Paypal.me/TravisBook1
VIEW LIVE STREAM HERE : facebook.com/greyeagleasheville
WITH THE HAPPY HOUR HOUSE BAND FT: Mike Ashworth (Steep Canyon Rangers) and Tommy Maher (Fireside Collective).
COVID-19 POLICY: The Grey Eagle requires all patrons attending performances to provide proof of vaccination or negative test within 48 hours prior to the event. Currently Buncombe Co. mandates that masks be worn indoors. THIS MEANS YOU NEED TO MASK UP. Patrons will need to provide physical or digital documentation of COVID-19 vaccination or negative test. Professional negative test results must be dated no more than 48 hours prior to the event. At-home testing will not be accepted.

TRAVIS BOOK (of The Infamous Stringdusters)

The Travis Book Happy Hour is a 90 minute variety show hosted by Travis Book; bassist, songwriter, and vocalist in the Grammy Award winning bluegrass band, The Infamous Stringdusters, streaming live from the historic Grey Eagle in Asheville, NC. Born from his desire to bring musicians and friends together for collaboration and conversation, Travis launched the series in the summer of 2020 amidst the uncertainty of the Covid-19 crisis and a country divided. Faced with a cascade of existential questions about the nature of life and of being, Travis sought an outlet for inquiry, and individuals to help him dig deeper into what it means to be a musician and a creative being in the context of an ever-changing world. Unique, spontaneous musical collaboration with friends and contemporaries leads to singular moments of harmony and the occasional musical train-wreck… The Travis Book Happy Hour is his attempt to shine light into the darkest corners of our lives; to dive deep into the nature of our being and emerge bathed in the love, happiness, grace, and gratitude that's available to us all, and hopefully, to make some beautiful, meaningful music along the way.

Jeff began to play drums in the sixth grade. Then In 1975, Jeff's first stepping stone was attending the Shenandoah Conservatory of Music. — One of Jeff's dreams finally came true when he was accepted to Berklee in 1977. While at Berklee, Jeff studied under Bob Kaufman and Bill Norine, he attended clinics given by Alan Dawson and was taken under by his mentor Lee Venters. Jeff was lucky enough to attend Berklee with an impressive cast of musicians like Branford Marsalis, Bill Frisell, Mike Stern and Jeff Watts, Kevin Eubanks, Dean Parks, Steve Vai, just to name a few.

While studying at Berklee, Jeff met and played in a band with Steve Vai and Baron Brown called "Winter". This experience turned Jeff on to a wide world of music and rhythm which gave him valuable tools that he still carries with him today.

After his stay in Boston, Jeff moved to Atlanta in 1983. There he began gigging and teaching at the Atlanta Institute for Music and at a popular hang out for Atlanta drummers, Atlanta Drums and Percussion. Jeff spent time sitting in with local musicians and was introduced to Bruce Hampton through Dan Wall, a keyboardist that he had been playing with…..and that's the rest of the story. It seemed too fitting that their first meeting took place at a wedding because not only was there a marriage there was a wedding of vast musical intention. Jeff then asked Oteil Burbridge and Jimmy Herring to sit in on this free willed musical band wagon and the Aquarium Rescue Unit was born.

In 1996, Jeff met up with Swedish-born bass extraordinaire Jonas Hellborg and the Memphis guitar monster Shawn Lane. This Trio did many Europoean tours as well as American tours. Jonas released 4 recordings of this band including "Temporal Analogues of Paradise", a classic.

Jeff's interest in bluegrass music led him to 3 years with "Leftover Salmon" where he gigged almost non stop! The recording "Nashville Sessions" was a high lite of that period having an opportunity to work with Randy and Earl Srcruggs, Bela Fleck, Waylon Jennings, Lucinda Williams, Taj Mahal, & Jerry Douglas among others.

Jeff took on his own creation known as the Zambiland Orchestra. This experimental big band featured Ricky Keller conducting members of Phish, Widespread Panic, Michael Ray and the Cosmic Crew, the Derek Trucks Band, the Fiji Mariners, MOE, Little Feat, Sam Bush, John Cowan, Warren Haynes, Stanton Moore, the Atlanta All-Stars, Little John, Sonny Emory Randy Honea, and many others.

The Zambiland Orchestra performed as a charity event for six years in a row every December just before Christmas at the Variety Playhouse as a benefit for Hospice and the food bank.

By the 4th year into it there where 83 players on stage being conducted by the great spirit Ricky Keller and Jeff. One invited guest was Matt Butler who was so inspired by this spirited event that he began his own version called the" Everyone Orchestra".

Even more recently Jeff teamed up with long time friend and guitar maniac Jimmy Herring on a project known as Z, that's Project Z to most. Together with fellow Atlantian producer/musician Ricky Keller and mega organ/keyboardist Oliver Wells, Project Z recorded a self titled debut album filled with juicy fusionisk tunes that gathered praise from all realms. Since then a second Project Z has been released as well as Jeff's solo release "Timeless" featuring Paul Hanson, Derek Jones, Jason Crosby, Kofi Burbridge, Count 'M Butu and Derek Trucks.

Venue Information:
The Grey Eagle
185 Clingman Ave

Asheville, NC, 28801