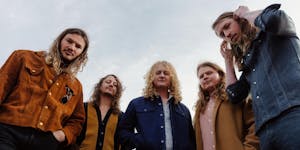 Presented by The Grey Eagle and Worthwhile Sounds
Read Southall Band
Read Southall Band visits Asheville NC to make their Grey Eagle debut on Jan 18. ALL AGES show. Doors open at 7pm, Rich Nelson Band opens.
– 7PM DOORS / 8PM SHOW
– ALL AGES
– STANDING ROOM ONLY
COVID-19 POLICY UPDATE: The Grey Eagle requires all patrons attending performances to provide proof of vaccination or negative test within 48 hours prior to the event. Currently Buncombe Co. mandates that masks be worn indoors. THIS MEANS YOU NEED TO MASK UP. Patrons will need to provide physical or digital documentation of COVID-19 vaccination or negative test. Professional negative test results must be dated no more than 48 hours prior to the event. At-home testing will not be accepted.
In 2015, the local songwriting scene of Stillwater, OK brought together four like-minded individuals from completely different background who wanted nothing more than to play music. Read Southall became the talk of Oklahoma after the release of his acoustic album "Six String Sorrow" in 2015 that accumulated 8 million streams in just 3 years. In 2016, Read Southall decided that a group effort was the way to proceed with his fellow band mates and the Read Southall Band officially came to light. They released "Borrowed Time" in the spring of 2017 which featured singles like "Don't Tell Me" and "Why", which made it inside the Top 10 on several streaming charts.
The Read Southall Band began to tour full time in 2018, leading to the release of "Live at Tower Theatre" in December.
2019 is set to be a huge year for the Oklahoma rock 'n' roll quartet as they tour all over the USA with several acts like Whiskey Myers and Koe Wetzel.
Rich Nelson is a rock musician originally from Detroit. He has been making music and art in the mountains of North Carolina since 2004. After playing in many bands for many years, Rich Nelson recorded his first solo album in 2018 and his second in 2019.
Check out the second album 'Twenty Twenty Hearing', and the first record 'Ever Since Now' here at RichNelsonBand.com, at Dark Corner Records, or on iTunes, Spotify, etc. There's also some fun stuff on YouTube. Look for the third album soon.
The band played many shows in 2019 and 2020 and we look forward to getting back out there soon.
TICKET DISCLAIMER:
This ticket is a revocable license and may be taken up and admission refused upon refunding the purchase price appearing hereon and is grounds for seizure and cancellation without compensation. Holder of this ticket ("Holder") voluntarily assumes all risks and danger incidental to the game or event for which this ticket is issued whether occurring prior to, during, or after same, including, but not limited to, contracting, and/or spreading the COVID-19 virus, and agrees that the organization, venue, presenter, agents, participants, or players are not responsible or liable for any injuries, sickness, or death resulting from such causes. Holder acknowledges that the COVID-19 pandemic remains a threat to individual and public health, COVID-19 is a highly contagious disease transmitted through human contact and respiratory droplets (including through the air and via common surfaces) and it is possible that Holder may contract COVID-19 while at the game or event for which this ticket is issued. Holder agrees by use of this ticket not to transmit or aid in transmitting any description, account, picture, or reproduction of the game or event to which this ticket is issued. Breach of the foregoing will automatically terminate this license. Holder agrees that the license comprised by this ticket may be removed and Holder may be ejected from the game or event for which this ticket is issued in the event that Holder violates any law, ordinance, or venue regulation. Holder grants permission to the organization sponsoring the game or event for which this ticket is issued to utilize Holder's image or likeness in connection with any video or other transmission or reproduction of the event to which this ticket relates.

Venue Information:
The Grey Eagle
185 Clingman Ave

Asheville, NC, 28801