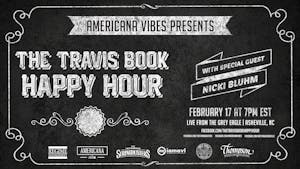 Presented by The Grey Eagle and Worthwhile Sounds
LIVE STREAM: The Travis Book Happy Hour ft Nicki Bluhm
The Travis Book Happy Hour live from The Grey Eagle in Asheville, NC! Live streaming on The GE's Facebook page and on all IAMAVL channels.
TRAVIS BOOK (of The Infamous Stringdusters)
The Travis Book Happy Hour is a 90 minute variety show hosted by Travis Book; bassist, songwriter, and vocalist in the Grammy Award winning bluegrass band, The Infamous Stringdusters, streaming live from the historic Grey Eagle in Asheville, NC. Born from his desire to bring musicians and friends together for collaboration and conversation, Travis launched the series in the summer of 2020 amidst the uncertainty of the Covid-19 crisis and a country divided. Faced with a cascade of existential questions about the nature of life and of being, Travis sought an outlet for inquiry, and individuals to help him dig deeper into what it means to be a musician and a creative being in the context of an ever-changing world. Unique, spontaneous musical collaboration with friends and contemporaries leads to singular moments of harmony and the occasional musical train-wreck… The Travis Book Happy Hour is his attempt to shine light into the darkest corners of our lives; to dive deep into the nature of our being and emerge bathed in the love, happiness, grace, and gratitude that's available to us all, and hopefully, to make some beautiful, meaningful music along the way.
California native Nicki Bluhm recently made the move from her home of San Francisco to Nashville, TN re-invigorated as a songwriter and performer. Embarking on her second decade of releasing albums, Nicki stepped out on her own with the 2018 release of 'To Rise You Gotta Fall', a collection of songs exploring old endings and new beginnings. Eager to try new things in unfamiliar places, Bluhm decided to record at the legendary Sam Phillips Recording Services in Memphis, TN and enlisted producer Matt Ross-Spang (Jason Isbell, Margo Price, Calexico) to take the helm. After a year of rigorously touring 'To Rise You Gotta Fall' across the country and overseas; Nicki now performs with a variety of musicians including long time musical comrades Scott Law and Ross James. Having also shared the stage with such luminaries as the Infamous Stringdusters, The Wood Brothers, Geroge Porter Jr. and Phil Lesh, her collaborative efforts have made way for new bright-eyed interpretations of her existing catalog while inspiring fresh material to be released in the near future.