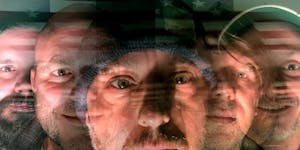 Presented by The Grey Eagle and Worthwhile Sounds
Jeremy Boger and The Golden Eagles: Album(s) Release Show w/ Ouroboros Boys
Jeremy Boger & The Golden Eagles celebrate the release of their latest EPs with a hometown show at The Grey Eagle in Asheville NC on 1/27!
COVID-19 POLICY UPDATE: The Grey Eagle requires all patrons attending performances to provide proof of vaccination or negative test within 48 hours prior to the event. Currently Buncombe Co. mandates that masks be worn indoors. THIS MEANS YOU NEED TO MASK UP. Patrons will need to provide physical or digital documentation of COVID-19 vaccination or negative test. Professional negative test results must be dated no more than 48 hours prior to the event. At-home testing will not be accepted.
- 7PM DOORS / 8PM SHOW
- ALL AGES
- STANDING ROOM ONLY
JEREMY BOGER & THE GOLDEN EAGLES
"Back before T Bone Burnett became the go to producer of americana he made Lennonesque power pop, big drums, choice reverbs, with sharp edited lyrics, and back before the smoke up his ass dulled the talent of Wayne Coyne he made fantastic epic records with his collaborators. if you are wistful about any music in those peak "outside of times" and dig crazy horse guitars, autoharps and mellotrons, ballads that grow into anthems, quick shadows of folks like the late great mark linkous and horns and strings that could have been arranged by van dyke parks not to mention great vocals delivered with the confidence of (not sound of) jason lytle or jonathan donahue Jeremy Boger's Golden Eagles is where you wanna lay your money down. 21st century music with swag and heart and just enough retro touch to defy timeframe." - Rick Morris
The Golden Eagles are:
Drums: Kevin "Krum" Rumley
Piano: Billy Sheeran
Guitar: Joshua Carpenter
Guitar and Keys: J Seeger
"...lilting at its start and then heavy in moments. Ion rich melodies drift[ing] above murky psychedelic guitar parts that hint at both slack-key tunings and beach party horror films." -Alli Marshall (Mountain Xpress).
Although the band is tagged most often as surf- influences can be heard from Santo and Johnny to Hawkwind. It's WEIRD reverb-dolloped instrumental music to feel good and bad to.
Ouroboros Boys have had the distinct honor of sharing the stage with national acts such as Agent Orange, Man or Astroman, Southern Culture on the Skids and Kid Congo Powers (The Cramps) AND have served as the house band for several regular "tiki night" events in and around Asheville. The current lineup includes Lowell Hobbs (Tongues of Fire) and Tony Plichta (US Christmas, Tony and The Haircuts, Night Beers) in addition to founding members Sean Dail and Nicholas Marshall.
TICKET DISCLAIMER:
This ticket is a revocable license and may be taken up and admission refused upon refunding the purchase price appearing hereon and is grounds for seizure and cancellation without compensation. Holder of this ticket ("Holder") voluntarily assumes all risks and danger incidental to the game or event for which this ticket is issued whether occurring prior to, during, or after same, including, but not limited to, contracting, and/or spreading the COVID-19 virus, and agrees that the organization, venue, presenter, agents, participants, or players are not responsible or liable for any injuries, sickness, or death resulting from such causes. Holder acknowledges that the COVID-19 pandemic remains a threat to individual and public health, COVID-19 is a highly contagious disease transmitted through human contact and respiratory droplets (including through the air and via common surfaces) and it is possible that Holder may contract COVID-19 while at the game or event for which this ticket is issued. Holder agrees by use of this ticket not to transmit or aid in transmitting any description, account, picture, or reproduction of the game or event to which this ticket is issued. Breach of the foregoing will automatically terminate this license. Holder agrees that the license comprised by this ticket may be removed and Holder may be ejected from the game or event for which this ticket is issued in the event that Holder violates any law, ordinance, or venue regulation. Holder grants permission to the organization sponsoring the game or event for which this ticket is issued to utilize Holder's image or likeness in connection with any video or other transmission or reproduction of the event to which this ticket relates.

Venue Information:
The Grey Eagle
185 Clingman Ave

Asheville, NC, 28801