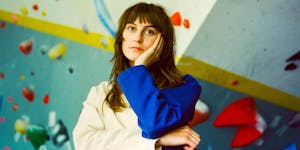 Presented by The Grey Eagle and Worthwhile Sounds
Faye Webster
Faye Webster visits Asheville NC for a stop at The Grey Eagle on Friday March 4 at 9pm! It's an ALL AGES show and Kate Bollinger opens.
8PM DOORS / 9PM SHOW
ALL AGES
STANDING ROOM ONLY
COVID-19 POLICY: The Grey Eagle requires all patrons attending performances to provide proof of vaccination or negative test within 48 hours prior to the event. We strongly suggest you mask up while indoors and interacting with TGE staff. Patrons will need to provide physical or digital documentation of COVID-19 vaccination or negative test. Professional negative test results must be dated no more than 48 hours prior to the event. At-home testing will not be accepted.
Faye Webster loves the feeling of a first take: writing a song, then heading to the studio with her band to track it live the very next day. When you listen to the 23-year-old Atlanta songwriter's poised and plainspoken albums, you can hear why: she channels emotions that are so aching, they seem to be coming into existence at that very moment. Webster captures the spark before it has a chance to fade; she inks lyrics before they have a chance to seem fleeting. Her signature sound pairs close, whisper-quiet, home-recorded vocals with the unmistakable sound of musicians together in a room.

I Know I'm Funny haha is Webster's most realized manifestation yet of this emotional and musical alchemy. Continuing to bloom from her 2019 breakthrough and Secretly Canadian debut Atlanta Millionaires Club, Webster's sound draws as much from the lap-steel singer-songwriter pop of the 1970s and teardrop country tunes as it does from the audacious personalities of her city's rap and R&B community, where she first found a home on Awful Records.

In the two years since Atlanta Millionaire Club, Webster's profile has steadily risen—as she played festivals like Austin City Limits and Bonnaroo and found her way onto none other than Barack Obama's 2020 year-end list—and she also fell in love. "This record is coming from a less lonely place," Webster says of I Know I'm Funny haha, which finds her sound fuller, brighter, and more confident. "When I wrote AMC, I was living by myself and on some don't-know-what-to-do-with-my-own-time type shit. But now I'm living with my partner; I'm happy most of the time. I'm in such a different place. These songs aren't necessarily happier, but it's a different vibe."

The album began for Webster with the stirring ballad "In a Good Way," as in "You make me want to cry in a good way"—an instant-classic Faye Webster one-liner. It's beguilingly simple (as is her fantastic self-directed video), the kind of melody and arrangement that seem to have existed forever. "I didn't know that I was capable of being happy right now," Webster sings, and she says her own writing surprised her, too. "When I wrote that song, I was like Damn, I didn't know I could write these kinds of songs! I feel like it set the mood for the rest of the album." A sense of relief charges the neo-psychedelic pop of "Cheers," where Webster experiments with an overdriven guitar tone. She also collaborated, on "Overslept," with the Japanese artist Mei Ehara, who she calls the biggest influence on her new music.

"A Dream About a Baseball Player" is Webster's oldest song on the record, a snapshot of her one-time teenage crush on Atlanta Braves outfielder Ronald Acuña Jr.—who she actually met when she was invited to sing at a Braves game in 2019. The song is no doubt a testament to I Know I'm Funny haha's brilliantly colloquial title. But more than humor, Webster's music is full of personality. (This also shines through her work as an accomplished photographer of portraits and still lifes.) Many of her songs contain bits of girl-group-esque talk-singing, which color her atypical story-songs. The title track, for example, reflects on a dinner with her partner and his sisters, one of whom told her she's funny.

"One of my favorite things about songwriting is taking thoughts that people don't really think are worthy, or might overlook, and highlighting them," Webster says. (She also comes alive when describing hobbies like chess and yo-yoing.) "I like saying things that everybody thinks, but nobody's saying. Sometimes you can't really sing them, or make them pretty. So I'll just say it, just talk. I've become more purposeful with it."

Webster started recording I Know I'm Funny haha before the coronavirus pandemic, but with the 2020 shutdowns, she had to switch up her typically spontaneous song-by-song studio approach for most of the album. She tried recording with her band for a COVID-safe two-week studio stretch, but ultimately left, recording vocals at home on Garageband: "I did the rest of the vocals in my bedroom, which is what I've done and what I'm used to, and what I prefer," she says of her intimate singing style. The entirety of the album's stunning, acoustic closer "Half of Me" was tracked by Webster alone at home. And the uncertainty of life in 2020 also seeped into some of her lyrics, as on the gorgeous "Better Distractions" (which landed on Obama's playlist), a song about missing a loved one and wondering "What's next?"

Accepting the challenges, Webster says she's in a growth mindset, pushing herself to learn more, to be more vulnerable. "Growth is really important to me," she says. "I hope people will relate to my songs, and not just be like 'this is a good record' but 'this makes me feel something. This is making me think differently, this is making me question things.' I told myself a few years ago that I was going to be more honest in my songwriting, that honesty is the best route to take with music. If I have a voice and people are listening to me, I'm not going to waste it."

For Kate Bollinger, knowing how to articulate exactly what she means would take a seemingly unattainable level of communicational prowess. Because of this, her nuanced songwriting gives listeners a framework within which they can project their own experiences. "It is rare that my words represent my thoughts accurately and even in the instances where I feel that they do, I know that I can't be responsible for the hearing of those words or for the interpretation of them," she explains. "Sometimes I write in a very specific way, but sometimes it is better to write only the skeleton."

From a young age, Bollinger turned to songwriting as a way of testing out ideas and stringing together words, perfecting them until they matched her intentions. Memories of her childhood in Charlottesville evoke melodies emanating from the stereo and experimental sounds leaking out of the basement, where her two older brothers recorded with their bands. Bollinger's mother, a music therapist, released a handful of children's albums, and she welcomed her daughter into the accompanying choir. Being a small part of an ensemble was freeing, and Bollinger went on to perform in local opera productions when she was still in elementary school. "I was shy when I was little and didn't want a speaking role, I just wanted to sing and be on stage," she recalls, laughing. "I still feel that way."

In adolescence, Bollinger absorbed a spectrum of genres that came to influence her future songwriting. On the family's CD rack it may have been possible to find pop icons of the early aughts stacked up against classics of her parents' generations. Feist soundtracked drives with dad, and Bollinger marvelled at the dexterity of those albums, the way they would move from a dance track to R&B to something spare and wholly unexpected. Taking inspiration from her siblings' musical projects, Bollinger began writing songs, and at 14, her brother Will helped her record one at home for the very first time.

From there, Bollinger started gigging around Charlottesville and eventually won free studio time in a local songwriting competition, but put off studio recording until years later when she had a backing band in place. Bollinger met her primary collaborator, John Trainum, while working on her cinematography degree at UVA. Once Bollinger had a collection she felt especially confident in, she booked her free day of recording and knocked out the songs that made up her EP, I Don't Wanna Lose, in a single day. The self-released collection presented Bollinger with new opportunities, like opening for Soccer Mommy in Richmond and hitting the road with Wild Nothing while she was still finishing her degree.

On August 21st, Bollinger will release her new EP A word becomes a sound. "I'm really happy with the way that I Don't Wanna Lose turned out, but everything was so new to me, so I didn't take things where they could have gone. Every song you hear is a live take and I was so excited to record the songs as I had written them, so there wasn't much in the way of production after the fact," Bollinger says. "When we recorded A word becomes a sound, I really pushed myself to actualize what I heard in my head." Recording the EP was hard-fought; the COVID-19 crisis hit before the band was able to finish, so Bollinger and Trainum were forced to complete the project under unprecedented circumstances. The resulting collection comprises five songs, all of which flit between sonic sensibilities, never once settling on a single sustained mood. Taking inspiration from pop, folk, jazz, and beat-driven experimentation, A word becomes a sound grounds itself in Bollinger's nimble voice, which fits a torrent of emotion inside of it. "My music has a really soft center and when I write I am finding a balance between something delicate and the darker feelings surrounding it," Bollinger says. "Many of my songs are about childhood, because I am lucky to have had a pretty idyllic one."

But what happens when childhood ends and the anxieties of adulthood come to dominate a once-carefree mind? "My songs, and the sadness in them, comes from reflecting on an easier time." You can hear that sentiment especially well on lead single "A Couple Things," which is the oldest song on the EP and has been a part of Bollinger's live repertoire since 2018. It finds Bollinger steeped in shifting familial and interpersonal dynamics over a bed of breezy instrumentation. "You always took care of all my baggage/ It's hard now it's somethin' I gotta do," she sings. Bollinger describes "Feel Like Doing Nothing" as a dream pop song, one that was written in close collaboration with Trainum and is unlike anything she's recorded before. Its lyrics yearn for a respite from the weight of responsibility, coalescing with the moody, R&B imbued "Grey Skies," a song that provokes a sense of ease though it contemplates the inevitability of oncoming sorrow.

"I try to write in a way that leaves each song open to interpretation because I want people to hear their own relationships reflected back at them when they listen to my music," Bollinger says. She has described it as a collaborative coloring book, a series of outlines waiting to be filled in by a listener's experiences. To that end, the EP's title track, "A word becomes a sound" produces a lens to read the collection through. It was inspired by Vladimir Nabokov's short story "Terror," in which a man slowly begins to disassociate from his surroundings. Eventually, words lose their meaning entirely. A house is no longer a "house." A tree is no longer a "tree." The "self" becomes something spectral and impossible to define, deferential to the porous boundaries of the world. On A word becomes a sound, Bollinger harnesses that sensation of terrifying and enlivening free-fall.

Venue Information:
The Grey Eagle
185 Clingman Ave

Asheville, NC, 28801