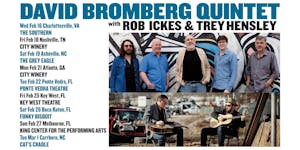 Presented by The Grey Eagle and Worthwhile Sounds
David Bromberg Quintet w/ Rob Ickes & Trey Hensley
$30.00 - $40.00
Sales Ended
David Bromberg Quintet returns to The Grey Eagle in Asheville with special guests Rob Ickes & Trey Hensley on Sat Feb 19 for an 8pm show.
David Bromberg Quintet returns to The Grey Eagle in Asheville with special guests Rob Ickes & Trey Hensley on Sat Feb 19 for an 8pm show.
COVID-19 POLICY UPDATE: The Grey Eagle requires all patrons attending performances to provide proof of vaccination or negative test within 48 hours prior to the event. Currently Buncombe Co. mandates that masks be worn indoors. THIS MEANS YOU NEED TO MASK UP. Patrons will need to provide physical or digital documentation of COVID-19 vaccination or negative test. Professional negative test results must be dated no more than 48 hours prior to the event. At-home testing will not be accepted.
– 7PM DOORS / 8PM SHOW
– ALL AGES
– SEATED SHOW
With his 1971 self-titled Columbia Records release, David Bromberg emerged as the wunderkind of American roots music. The disc's compelling blend of traditional and original material, virtuosic musicianship and iconic cover art trumpeted the arrival of a new artist possessed of audacious and uncompromising vision. Over the course of four albums for Columbia and five for Fantasy Records, and through associations with artists like Bob Dylan, Jerry Jeff Walker, John Hartford, George Harrison, the Grateful Dead, Emmylou Harris and Bonnie Raitt, Bromberg's reputation, repertoire and following grew exponentially. However, the incessant demands of touring finally brought the band's recordings and shows to an end in the early 1980's.
The twenty-two year drought ended in 2006 with the release of the Grammy-nominated solo effort Try Me One More Time. Gradually tour dates were added and bandmembers assembled as David, in 2011, followed up Try Me with Use Me, a typically unorthodox Brombergian effort, partnering him with some of the most celebrated names in music – Linda Ronstadt, Vince Gill, Los Lobos, Dr John, Keb' Mo, John Hiatt, Levon Helm and others – whom David asked to either write or choose songs and then produce him doing them.
Two more albums emerged from 2013 to 2017, Only Slightly Mad and The Blues the Whole Blues and Nothing But the Blues, both produced by three-time Grammy winner Larry Campbell. Recorded at Levon Helm's Barn, Only Slightly Mad brought the band back to David's eclectic 'kitchen sink' musical philosophy, while with The Whole Blues, David upheld Texas fiddler Johnny Gimbel's claim that: "There are only two songs – the Star-Spangled Banner and the Blues." The band skipped over the 'Banner' and headed straight for the blues, winning the 2017 Downbeat Critic's Poll for Best Blues Album.
Eventually David's band settled into its current lineup of Mark Cosgrove (guitar, mandolin, vocals), Nate Grower (fiddle, mandolin, guitar, vocals), Josh Kanusky (drums, vocals) and newest member, Suavek Zaniesienko (bass, vocals). This nucleus has performed hundreds of shows together, traversing thousands of miles, across the US & Canada to Europe, Japan and Australia. With the group having attained a high level of musical telepathy, they entered the studio in mid 2019 for a slightly different approach to record making….
The new album, Big Road, will give Bromberg fans the most intimate portrait to date of David and the band, musically and visually. Featuring twelve new tracks, five hi def performance videos and a mini documentary detailing the album's creation, it will be released in three formats: traditional CD, a gatefold vinyl album and a CD/DVD combo pack. In an age where recorded music has been devalued and relegated to a digital stream for smart phones, Big Road returns the listener to the golden age of record making, when enjoying an album was a tactile, visual and auditory experience. Joining David's core band are keyboardist extraordinaire Dan Walker on piano, organ and accordion, a stellar horn section of Bromberg regulars like Birch Johnson (trombone), Jon-Erik Kellso (trumpet), Matt Koza (tenor sax) and Bob Stewart (tuba) with Larry Campbell on mandolin and pedal steel.
We think you'll agree that traveling the David Bromberg Band's Big Road is a trip work taking.
"Two musical phenoms" —NPR
"(Rob & Trey are an) acoustic firestorm…" —Vintage Guitar
"Dual lightning strikes in a bottle…" —Guitar Player
"Dueling like Afghan kite fighters, and backed by upright bass, drums, percussion, B-3, and horns, the two acoustic virtuosos work the intersecting lines of blues, bluegrass, and traditional country while adding fresh moves of their own." —Premier Guitar
Take a 15-time IBMA (International Bluegrass Music Association) Dobro Player of the Year and a Tennessee-born guitar prodigy who made his Grand Ole Opry debut at the age of 11, and you have Rob Ickes and Trey Hensley, a powerhouse acoustic duo that has electrified the acoustic music scene.
Known for their white-hot picking, stone country vocals with soul and world class live musicianship, Ickes and Hensley meld together blues, bluegrass, country, rock and other string band music of all kinds to form a signature blend of music that defies restrictions of genre. They are equally at home on stages of prestigious performing arts centers, theatres and the Grand Ole Opry as they are on Americana, jamgrass, bluegrass and jam band festivals.
Ickes co-founded the highly influential bluegrass group Blue Highway and has been a sought-after Nashville session player and live performing musician for decades, with credits to his name such as Vince Gill, Earl Scruggs, Merle Haggard, Alan Jackson, Reba McEntire and Alison Krauss. Hensley has been called "Nashville's hottest young player" by Acoustic Guitar magazine and his soulful baritone vocals have received acclaim as well. Influenced by repertoires as diverse as The Allman Brothers Band, Ray Charles, Merle Haggard and Stevie Ray Vaughan, Hensley has shared stages with artists such as Johnny Cash, Steve Wariner, and Peter Frampton. As a duo, Ickes and Hensley have shared the stage and collaborated with Tommy Emmanuel, Taj Mahal, David Grisman, and Jorma Kaukonen & Hot Tuna — all enthusiastic admirers of the duo — as well as Luther Dickinson of North Mississippi All Stars, Molly Tuttle, and many more. The duo were key players on "Original," the recent highly lauded Compass album by bluegrass giant Bobby Osborne; their participation garnered a Recorded Event Of The Year Award for Bobby's version of "Got To Get A Message To You" on that album at this year's IBMA Awards; they also were on the 2016 Recorded Event winner, "Fireball," featuring Special Consensus, in 2016.
Ickes and Hensley have gained some added grit and a nod to the roots side of Americana aided by the guiding hand of GRAMMY-winning producer Brent Maher on the duo's new Compass Records album, World Full of Blues (released Oct. 4, 2019). Maher, known for his production and engineering of such diverse artists as Elvis Presley, Roy Orbison, Merle Haggard, Kenny Rogers, The Judds, Faces, Ike and Tina Turner, Sly and the Family Stone, and Chuck Berry, loved the duo's demos and signed on to produce immediately upon hearing them. Acclaimed bluesman Taj Mahal provides his unmistakable mojo to the title track and country music legend Vince Gill guests on an inspired rendition of cover of the Grateful Dead's moonshiner song, "Brown-Eyed Women." The project includes a range of songs that could be featured on a vintage Sun Records recording to Trey's more traditional country originals. On World Full of Blues, they move beyond the acoustic-centric sound of their previous two releases (including the GRAMMY-nominated Before The Sun Goes Down) and juice things up with Hammond B3 and a horn section.
The album was recorded live at Maher's Nashville studio, The Blueroom, with minimal overdubs. Maher says, "For me, this record was all about living in the moment…letting spontaneity rule." Despite the diversity in instrumentation and song selection—acoustic blues to jammed out roots rockers, "Hag" country to Duane and Dickey style twin leads reminiscent of The Allman Brothers—the end result is a sound unified in its approach to the broad scope of roots music. "Ultimately we're the unifying factor," says Ickes. "It's obvious we're into all these different styles, but there's a commonality in the sound of our instruments that, blended with Trey's voice, makes it one sound."
Ickes and Hensley wrote or co-wrote nine of the songs on World Full of Blues and put their own spin on the two covers. Hensley says, "Our songwriting was always present on the last records, but there were maybe three originals and the rest covers. We made a decision on this one to present more of our own material."
Ickes contributes the instrumental "The Fatal Shore" and the cautionary "Thirty Days," while Hensley offers the optimistic life-on-the-road song, "Both Ends of My Rainbow." Hensley got the idea to write the lively "Nobody Can Tell Me I Can't" after hearing a friend use that phrase in conversation. That title clearly embodies the duo's creative streak, too.
"'World Full of Blues'" felt important to me to include from the first time Rob talked about it," says Hensley. "Bill Scholer had written a version of the song, but Rob and I decided to rewrite it, with some help from our friend Jason Eady, to make it more modern, while keeping Bill's original intent intact: 'It's a crazy world and it feels like it's getting crazier all the time…' We knew we wanted a guest on this song and Taj Mahal was at the top of our dream list. He loved it and agreed to sing a verse and play some guitar on it. Working with Taj in the studio was a huge highlight for us… what an amazing guy and an absolute legend in every sense."
"Brown Eyed Women" has the distinction of not only being one of the duo's favorite Grateful Dead tunes, but a career first for country legend Gill. "Vince is one of our big musical heroes and it was so awesome having him sing on a Grateful Dead tune, which was the first time he's recorded a Dead song."
"Born With The Blues" is a song Ickes and Hensley wrote with their friend Bobby Starnes. "Bobby started it and we finished it up," Ickes recalls. "It reminds me of a Clint Eastwood western, and the percussion and horn section really solidifies that. This is a song that gives us room to stretch out musically. It felt like the perfect song to kick off the record. "
"Suzanne," written by Hensley with Larry Shell and Larry Cordle, finds the duo swapping instruments, Hensley playing a 1931 National resonator guitar and Ickes playing a 1927 Montgomery Ward guitar that belonged to his grandfather. "We had spent the morning talking about how amazing Lightning Hopkins, Muddy Waters, and John Lee Hooker all were and this song just appeared." Hensley recalls. "Having Jim Hoke arrange the horns and play on it just really added a Howlin' Wolf-era/Sun Records vibe."
Closing the project is a rousing, smoking hot take on blues-jazz-rock guitarist Robben Ford's "Rugged Road." Few guitarists cross boundaries as deftly as Ford and this rendition firmly places Ickes and Hensley in the same pantheon as the celebrated guitar slinger.
Ickes grew up in a suburb of San Francisco and discovered the Dobro as a teenager when he borrowed a Mike Auldridge cassette from his brother. He later moved to Nashville to pursue session work, and eventually graced the recordings of some of the best in the business before co-founding Blue Highway, and earning an unprecedented number of IBMA Dobro Player of the Year accolades.
Hensley grew up in East Tennessee and started singing in a gospel group when he was 6 years old. A few years later, his parents took him to a bluegrass festival where the lineup included back-to-back sets by bluegrass legends Charlie Waller and Jimmy Martin. Hensley decided then and there that he wanted to play guitar. By the time he was 11, he had given the life-changing first performance on the Grand Ole Opry playing guitar with Earl Scruggs and Marty Stuart.
When Scruggs played Knoxville not long after the Opry appearance, he invited the young Hensley to sit in. Ickes, who was playing Dobro in Scruggs' band at the time, remembers Hensley as "a very talented kid," but it would be roughly a decade before they crossed paths again. When they did, Ickes was blown away.
"I couldn't believe the guy!" Ickes says. "I was just so excited about his music that I called everyone I knew in Nashville and told them about him. Then I suggested that we start playing at (Nashville's) Station Inn and treat it like a showcase for Trey, just to see what might happen. I used to tease him and say, 'I'll have you famous by Christmas.' Then, just one year later, our first record was nominated for a GRAMMY."
Ickes and Hensley have performed in places as close to home as Nashville's world famous Grand Ole Opry (multiple performances at both the Grand Ole Opry House and the Ryman Auditorium) and as far away as Denmark's Tonder Festival. They've played many prestigious music festivals, including Telluride Bluegrass, ELLNORA | The Guitar Festival, AmericanaFest, Rockygrass, ROMP, Wintergrass, Bluegrass Underground, Vancouver Island Music Festival, Guitar Town, Sisters Folk Festival, the Freshgrass Festival, Copper Country Music Festival and several others. They were invited to perform at Hardly Strictly Bluegrass with Buddy Miller in Oct. 2019 and will set sail from Miami to St. Croix and Antigua on the Cayamo cruise alongside Brian Wilson, Jeff Tweedy, Mavis Staples, Rodney Crowell and others Feb. 2020. Several more tour dates are planned in 2020 with Taj Mahal, their "World Full of Blues" collaborator.
Going forward the goal is simply to reach more people and illustrate what the unique talents and down to earth, honest approach of Ickes and Hensley can bring to roots music. "We want to keep doing the music that we love, no matter what the genre, and finding the audience that gets what we're mixing together" says Ickes. Hensley adds, "I love what we're doing, so it's just continuing on with that, to more and more people."
TICKET DISCLAIMER:
This ticket is a revocable license and may be taken up and admission refused upon refunding the purchase price appearing hereon and is grounds for seizure and cancellation without compensation. Holder of this ticket ("Holder") voluntarily assumes all risks and danger incidental to the game or event for which this ticket is issued whether occurring prior to, during, or after same, including, but not limited to, contracting, and/or spreading the COVID-19 virus, and agrees that the organization, venue, presenter, agents, participants, or players are not responsible or liable for any injuries, sickness, or death resulting from such causes. Holder acknowledges that the COVID-19 pandemic remains a threat to individual and public health, COVID-19 is a highly contagious disease transmitted through human contact and respiratory droplets (including through the air and via common surfaces) and it is possible that Holder may contract COVID-19 while at the game or event for which this ticket is issued. Holder agrees by use of this ticket not to transmit or aid in transmitting any description, account, picture, or reproduction of the game or event to which this ticket is issued. Breach of the foregoing will automatically terminate this license. Holder agrees that the license comprised by this ticket may be removed and Holder may be ejected from the game or event for which this ticket is issued in the event that Holder violates any law, ordinance, or venue regulation. Holder grants permission to the organization sponsoring the game or event for which this ticket is issued to utilize Holder's image or likeness in connection with any video or other transmission or reproduction of the event to which this ticket relates.

Venue Information:
The Grey Eagle
185 Clingman Ave

Asheville, NC, 28801