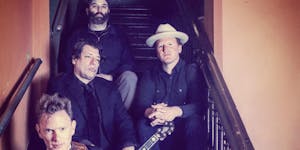 Presented by The Grey Eagle and Worthwhile Sounds
CANCELED: The Legendary Shack Shakers
The Legendary Shack Shakers return to The Grey Eagle in Asheville NC on February 16th at 8pm. ALL AGES show, and doors open at 7pm.
COVID-19 POLICY UPDATE: The Grey Eagle requires all patrons attending performances to provide proof of vaccination or negative test within 48 hours prior to the event. Currently Buncombe Co. mandates that masks be worn indoors. THIS MEANS YOU NEED TO MASK UP. Patrons will need to provide physical or digital documentation of COVID-19 vaccination or negative test. Professional negative test results must be dated no more than 48 hours prior to the event. At-home testing will not be accepted.
– 7PM DOORS / 8PM SHOW
– ALL AGES
– STANDING ROOM ONLY
The Legendary Shack Shakers' hell-for-leather roadshow has earned quite a name for itself with its unique brand of Southern Gothic that is all-at-once irreverent, revisionist, dangerous, and fun. Led by their charismatic, rail-thin frontman and blues-harpist JD Wilkes, the Shack Shakers are a four-man wrecking crew from the South whose explosive interpretations of the blues, punk, rock and country have made fans, critics and legions of potential converts into true believers.
After taking more than a year off to work on other projects (including JD Wilkes's book "Barn Dances & Jamborees Across Kentucky"), the band is re-mobilizing in the fall of 2014 much to the excitement of many a Shack Shaker fanatic. Despite the group's time off, their reputation for intensity has stuck with them. On stage, JD has been compared to the likes of Iggy Pop, David Byrne, and Jerry Lee Lewis. The Nashville Scene named Wilkes "the best frontman in Nashville" in 2002, while former Dead Kennedys frontman Jello Biafra has called JD "the last great Rock and Roll frontman." Having joined the band in early 2012, garage blues guitar player Rod Hamdallah–who also lends his prowess to Wilkes's side project 'JD Wilkes and the Dirt Daubers'–is back in the Shack Shakers' lineup. The rhythm section is rounded out with Brett Whitacre on drums and Mark Robertson thumping out the upright bass.
Although not legendary upon being named, the band has grown into its reputation the last several years due to their heavy tour schedule, six critically acclaimed studio albums, and songs that have been featured on television shows such as HBO's True Blood. Past tour mates and fans include Reverend Horton Heat, Rancid, The Black Keys, Slim Cessna's Auto Club, and Hank Williams III. Robert Plant is also a noted Legendary Shack Shakers fan, and picked the band to open for him on his 2005 tour of Europe. Plant named the band's third album Believe as one of his favorite records of 2005. The list of esteemed admirers goes on to include horror novelist Stephen King, who listed "CB Song" as among his iPod's Top Five in a 2008 Entertainment Weekly article. Such a wealth of devoted fans over the years has only added to the mystique that the Legendary Shack Shakers possess, carrying them down the road toward new creative pursuits and barn-shaking tunes.
Not many bands can claim that they were formed in a cemetery. But it was a perfect and appropriately poetic setting for the birth of roots music trailblazers The Pine Hill Haints. Just to address the obvious, the word "haint," of archaic English origin, means to haunt or to inhabit aggressively. And with a medium-like connection, The Haints have spent the last two decades resurrecting all kinds of music that has passed out of the mainstream – in a style they call "Alabama Ghost Country."
"Twenty-five years ago, there was a group of us in Auburn and we were all into roots music," recalls front man Jamie Barrier of their beginnings. "Meanwhile, me and my roommates had started a skateboard company. Whenever the police would come after us, everybody would run in a different direction, so they'd have to choose which of the eight they were going to chase. But every skater knew to meet up right beside my apartment, which was next to the Pine Hill Cemetery. I could open a window and walk out into the cemetery. It got to where we'd go into the cemetery with acoustic instruments and just jam.
"In some ways, we preceded the whole roots movement," he continues. "But in other ways, nobody preceded anything. I guess where we were coming from has a lot more teeth for me than what's happening now. People are almost afraid to say they love country without trying to up the rock side. But I think about the Carter Family just playing "You Are My Sunshine." The purity and emotion of that. It's almost like the hardest angle to find in country music today, so we wanted to really go there."
On the band's latest long-player, The Song Companion of a Lonestar Cowboy, they go there and to other colorful places on the Americana and Appalachian trail. The fifteen song sequence kicks off with "Fall Asleep" and "Back to Alabama," a fiery pair of rockabilly-meets-Irish-jig rave-ups, then winds through standout tracks like the Bo Diddley-grooved "Pretty Thing," a pounding tom-tom and fiddle take on the traditional "John Henry" and the catchy, cajun-flavored squeezebox pop of "Lone Star Kid." There are excursions into Sun Records-style country ("Midnight Mayor" and "Louise") and swampy blues (the saw-singing "Wade in the Water" and "Downtown Blues," which features guest J.D. Wilkes on harmonica). Throughout, Barrier's strong tenor voice rings familiar and friendly, with deep echoes of everything from John Lee Hooker to Buddy Holly to Johnny Cash. And the band plays with a sense of abandon that comes from thousands of gigs behind them. It all sounds deceptively simple, but anyone who plays music knows better. The Haints do something very few roots bands can, which is to transcend influences and sculpt age-old sounds into soul music for our time.
It makes sense when you look deeper into multi-instrumentalist/vocalist Barrier's background. He was born into a musical family and started playing and writing when he was twelve. He says, "I was around the old music my whole life. We'd go to someone's house and you'd see all the windows and doors open and people sitting in chairs, and I'd play music all night. That's how I was raised, so a lot of it came easy for me. I was also into punk rock and the New York Dolls. But people always seemed to want to hear me sing old country songs. Now that I'm in my forties, I can understand that. If I'm into hip-hop, I don't want to hear some kid from Florence, Alabama. I want to hear Tupac."
By high school, Barrier had developed twin passions for punk and skateboarding, both which had the DIY ethic that drives The Pine Hill Haints. He says, "I think of the first time I heard Fugazi. Here's a band, they don't have roadies, they've eliminated the stage, all this gear and lighting. The idea behind The Haints has to do with that - all the punk shows in Auburn where we transformed the corner of some kid's apartment into a stage. Similar to skateboarding, where it's a pure outlaw thing, and there's no coaches, and there's no betting, no gambling syndicate out in Las Vegas, there's no hierarchy, and the pavement is just as hard for a poor boy as a rich. All of a sudden the library becomes the skate park. All these benches and curbs are transformed into these fun obstacles. That's kind of how The Haints operate. When you start getting into folk music and Appalachian music, you realize that these guys just used whatever what was at hand – a washtub bass, a saw. We want to be able to play anywhere at any time. Set up on a corner and that's your stage."
Over the last twenty years, The Haints have played around the world at festivals like Secret Garden Party and Muddy Roots, and shared stages with such artists as Charlie Louvin, Ralph Stanley, The Legendary Shackshakers and The Secret Sisters.
When it came time to make their 11th album – their 25th release, if you add in EPs and 7"s – Barrier, his wife Kat (mandolin, washboard, saw), Stevie LaBlanc (washtub, banjo), Brian Borden (snare drum) and Justin Ward (accordion, trombone) embraced the idea of bringing the stage into the studio.
"We all recorded live in a little room with a forest of mics, at Sundrop Sound, which is built into an old house," Barrier says. "A big part of capturing our live sound in the studio has to do with playing quietly, so the drums don't bleed into the vocals and so on. It may seem counter-intuitive, but a lot of old records were cut that way. I know David Hood from the Muscle Shoals band, and he said the Otis Redding records were cut at really low volume, with tiny amps. The early Nashville records were cut that way too. We recorded live, with no overdubs until the very end. I went back on two songs and harmonized with myself. I'm not against other forms of recording. But if you listen to our records, we take a similar approach as Louis Armstrong or The Rolling Stones. I want someone to hear that it sounds like we've played together a million times. These guys who had to work the room thousands of times. When you hear their records, you hear that sound."
Though they've self-released albums and worked with veteran indies like label K, this time out, The Haints teamed up with Single Lock, an indie label in Florence, Alabama whose roster includes The Blind Boys of Alabama, Erin Rae, Cedric Burnside and John Paul White. "They've got a good little groove going, and I think there's a chance that more people might hear this album more than any of our others," Barrier says. "Knowing that, we dove a little deeper into the roots well. We had a little calypso, a little Bo Diddley beat, a little North Mississippi fife and drum. We did "Catfish Blues." We kind of leaned in a few directions. And the title of the album, The Song Companion of a Lonestar Cowboy is borrowed from the title of stories that a friend of Billy The Kid's published a hundred years ago. It's tales about him and Billy the Kid."
As the past and present dovetail on The Haints new album, the roots movement they pioneered and predicted could be what helps bring them wider recognition. The irony isn't lost on Barrier, who reflects, "I'm okay with being grouped in with Americana. I never mind getting stuff categorized. As long as I know who I am and what I'm really all about.
"Look, the way everything is now is completely different than when we started as a band," he continues. "But I've never been scared of youth. I don't want to carry the punk flag. But that's what we were born into. We were a punk band, and played anarchist, leftist squats for years. I don't owe them anything. We've outgrown all that. But we're from a different time. The zines and 7" records we put out are more like street. We've never been like Civil War re-enactors. We play old songs and use old instruments, but we're not afraid of electricity and recording digitally. We try to keep it honest. The predominant thing that we have is that we love music. I love music. I always have. I'm just stoked to get out and play again. And I'm not ashamed for someone to see me unroll my sleeping bag and sleep on the floor."
TICKET DISCLAIMER:
This ticket is a revocable license and may be taken up and admission refused upon refunding the purchase price appearing hereon and is grounds for seizure and cancellation without compensation. Holder of this ticket ("Holder") voluntarily assumes all risks and danger incidental to the game or event for which this ticket is issued whether occurring prior to, during, or after same, including, but not limited to, contracting, and/or spreading the COVID-19 virus, and agrees that the organization, venue, presenter, agents, participants, or players are not responsible or liable for any injuries, sickness, or death resulting from such causes. Holder acknowledges that the COVID-19 pandemic remains a threat to individual and public health, COVID-19 is a highly contagious disease transmitted through human contact and respiratory droplets (including through the air and via common surfaces) and it is possible that Holder may contract COVID-19 while at the game or event for which this ticket is issued. Holder agrees by use of this ticket not to transmit or aid in transmitting any description, account, picture, or reproduction of the game or event to which this ticket is issued. Breach of the foregoing will automatically terminate this license. Holder agrees that the license comprised by this ticket may be removed and Holder may be ejected from the game or event for which this ticket is issued in the event that Holder violates any law, ordinance, or venue regulation. Holder grants permission to the organization sponsoring the game or event for which this ticket is issued to utilize Holder's image or likeness in connection with any video or other transmission or reproduction of the event to which this ticket relates.

Venue Information:
The Grey Eagle
185 Clingman Ave

Asheville, NC, 28801