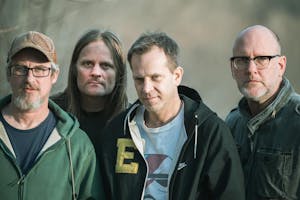 Presented by The Grey Eagle and Worthwhile Sounds
Archers of Loaf
$22.00 - $25.00
POSTPONED
THE seminal North Carolina rock band, ARCHERS OF LOAF, return to The Grey Eagle in Asheville NC [very soon]. And we can't wait.
Unfortunately, due to circumstances outside of our control and out of respect for the safety and health of our fans, we regret to inform you that the below shows have been postponed. Please stay tuned for new dates shortly! When new dates are announced, there is nothing you need to do: your tickets are valid for the new date and you will be notified.
Thank you for your understanding and please be safe out there!
April 10th in Asheville, NC at The Grey Eagle
April 11th in Birmingham, AL at The Saturn
April 17th in Philadelphia, PA at Underground Arts
April 18th in Baltimore, MD at Otto Bar
April 30th in St. Louis, MO at Delmar Hall
May 1st in Lawrence, KS at Bottleneck
May 2nd in Omaha, NE at The Waiting Room
May 3rd in Denver, CO at Bluebird Theater
ALL AGES
9PM SHOW, 8PM DOORS
STANDING ROOM ONLY
Singer/guitarist Eric Bachmann, guitarist Eric Johnson, bassist Matt Gentling, and drummer Mark Price formed Archers of Loaf in Chapel Hill, NC, in 1991. Icky Mettle was the first of four studio albums for the band that seemed to personify what SPIN magazine deemed "a tremendously optimistic time in underground music, that 15-minute period in the early 1990s when it looked like indie rock really might take over the world."

The band never officially broke up. Eric Bachmann had another musical project he was working on (Crooked Fingers), and the grind of the traditional album cycle and touring started to weigh on the Archers' desire to continue making music together. After a 13-year hiatus, the band performed a secret show in January 2011 at Cat's Cradle in Carrboro, NC, with The Love Language. The show proved they hadn't really missed a beat, and so a larger tour was booked in mostly smaller venues to replicate the raw live experience for which the band had always been highly regarded.

We Have Ignition draws upon inspiration from artists such as Man or Astro-Man?, Dick Dale, The Atlantics, and Ennio Morricone to create an all instrumental sound falling in the realm of heavy driven surf Rock.

The band consists of Nick Harvey (drums), Jeff Manson (bass), and Robert Lloyd Martin on guitar. Robert (RL) has played with Eric Bachmann in a variety of settings, including a stint with Crooked Fingers. In addition to We Have Ignition, RL is a regular contributor/collaborator with Puddle's Pity Party.

Venue Information:
The Grey Eagle
185 Clingman Ave

Asheville, NC, 28801