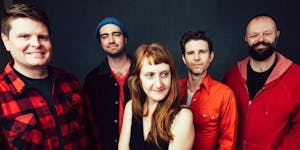 Presented by The Grey Eagle and Worthwhile Sounds
Amanda Anne Platt & The Honeycutters: Album Release Show
$15.00 - $22.00
Sales Ended
AMANDA ANNE PLATT & THE HONEYCUTTERS celebrate their album release with a hometown show at The Grey Eagle in Asheville NC on SAT 2/5.
COVID-19 POLICY: The Grey Eagle requires all patrons attending performances to provide proof of vaccination or negative test within 48 hours prior to the event. Currently Buncombe Co. mandates that masks be worn indoors. THIS MEANS YOU NEED TO MASK UP. Patrons will need to provide physical or digital documentation of COVID-19 vaccination or negative test. Professional negative test results must be dated no more than 48 hours prior to the event. At-home testing will not be accepted.
- 8PM DOORS / 9PM SHOW
- ALL AGES
- PARTIALLY SEATED SHOW (please note, there are both seated AND standing room only ticket options available)
AMANDA ANNE PLATT & THE HONEYCUTTERS
The music of Asheville, North Carolina based outfit Amanda Anne Platt & The Honeycutters is nuanced, bringing insight and wit to the stories Platt tells through songwriting. Lyrically driven, the band's country roots music often inspires introspection, whether it be about life on the road, heartache or hope.
There is an empathetic and charming wit ingrained in Platt's songwriting. She has a knack for accessing a deep well of emotion and applying it to her story-telling, whether she is writing from her own experiences or immersing herself into the melody of emotions in another person's life.
Performing along with Platt, The Honeycutters are Matt Smith (pedal steel and electric guitars), Rick Cooper (bass/vocals), Evan Martin (drums/vocals), and Kevin Williams (keys/vocals).
TICKET DISCLAIMER:
This ticket is a revocable license and may be taken up and admission refused upon refunding the purchase price appearing hereon and is grounds for seizure and cancellation without compensation. Holder of this ticket ("Holder") voluntarily assumes all risks and danger incidental to the game or event for which this ticket is issued whether occurring prior to, during, or after same, including, but not limited to, contracting, and/or spreading the COVID-19 virus, and agrees that the organization, venue, presenter, agents, participants, or players are not responsible or liable for any injuries, sickness, or death resulting from such causes. Holder acknowledges that the COVID-19 pandemic remains a threat to individual and public health, COVID-19 is a highly contagious disease transmitted through human contact and respiratory droplets (including through the air and via common surfaces) and it is possible that Holder may contract COVID-19 while at the game or event for which this ticket is issued. Holder agrees by use of this ticket not to transmit or aid in transmitting any description, account, picture, or reproduction of the game or event to which this ticket is issued. Breach of the foregoing will automatically terminate this license. Holder agrees that the license comprised by this ticket may be removed and Holder may be ejected from the game or event for which this ticket is issued in the event that Holder violates any law, ordinance, or venue regulation. Holder grants permission to the organization sponsoring the game or event for which this ticket is issued to utilize Holder's image or likeness in connection with any video or other transmission or reproduction of the event to which this ticket relates.

Venue Information:
The Grey Eagle
185 Clingman Ave

Asheville, NC, 28801