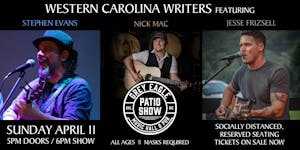 Presented by The Grey Eagle and Worthwhile Sounds
PATIO SHOW: WNC Writers ft. Stephen Evans, Nick Mac, Jesse Frizsell
Stephen Evans, Nick Mac, Jesse Frizsell
In-the-round show featuring artists from WNC, putting the spotlight on songwriting and original music with a tasteful touch of collaboration
PATIO SHOW
5 PM DOORS // 6 PM SHOW
ALL AGES
RESERVED TABLES
SOCIAL DISTANCING GUIDELINES IN PLACE
This is an in-the-round singer-songwriter style show that features artists from all over Western North Carolina. We like to put the spotlight on songwriting and original music with a touch of tasteful collaboration.
Born and raised in Fort Lauderdale, FL by musical parents and his talented brother, Stephen Evans naturally had a desire to play music. He started his own rock band, Mean Season, in Tallahassee, FL where he began honing his songwriting skills on the guitar. After moving to Asheville, NC 25 years ago, and vacillating between being a professional musician and building a nest, Stephen has been focusing on his love for writing and performing music. In 2014, the True Grits (Brian Shoemaker - bass, Sam Hess - drums, and Woodstock - mandolin) were enlisted to help him record his debut record "Something to Bleed" which was well received. The latest band EP release, "Under the Bridge" came out in 2017 to positive reception and local radio play as well. This record was engineered by newest member, Kyle Corbett (lead guitar).
Stephen's strong melodic songwriting is a blend of creative imagery of darkness and hopeful optimism. There is no denying the passion that shines through with his powerful vocals and lyrics. Songs like 'The Garden', 'Cherokee Hills', '1000 Roses' and 'Shining Star' are beacons of his folk rock songcraft.
This captain of the Western Carolina Writers ship, and Candler, NC native has been influenced by just about anything under the sun resides mostly in the southern rock and country realm. Nick had a short run with the Apple Blue Horse Band, but these days he's making his way as a solo artist. His music is largely inspired by love, good times and personal experiences.
Nick's first single called "Win or Die", which debuts on 2-26-21, is a testament to the heart and soul that he puts into his songs. Full album to be released a little later in the year.
Hailing from the mountains of Western North Carolina, guitarist and songwriter Jesse Frizsell seamlessly combines aspects of modern & classic Country/Americana with the smooth harmonies and feel heard in today's biggest chart toppers. Frizsell has been a musician and songwriter for the majority of his life, in his own solo endeavors and as a leading member of local North Carolina bands. As a member of those bands, Frizsell has performed at the Warren Haynes Christmas Jam and been an opening act for Bret Michaels (of Poison), Blackberry Smoke and Framing Hanley.
More, recently, Jesse writes songs for the heartbroken, the working man and those ready and willing to unwind after a long day. Songs like "Beer in The Shower" strike a chord with a wide audience, a combination of good-hearted humor and desperation, a song to laugh to keep from crying. He participates actively in the local Asheville music scene and in the southeastern region, most notably with the songwriters in the round group, Western Carolina Writers.
Jesse has released a full-length album, "This Is A War" as well as a two song EP, "A Couple of Songs for Drinking", and his latest LP in 2019, "Rose Gold Renegades" which are all available on Spotify.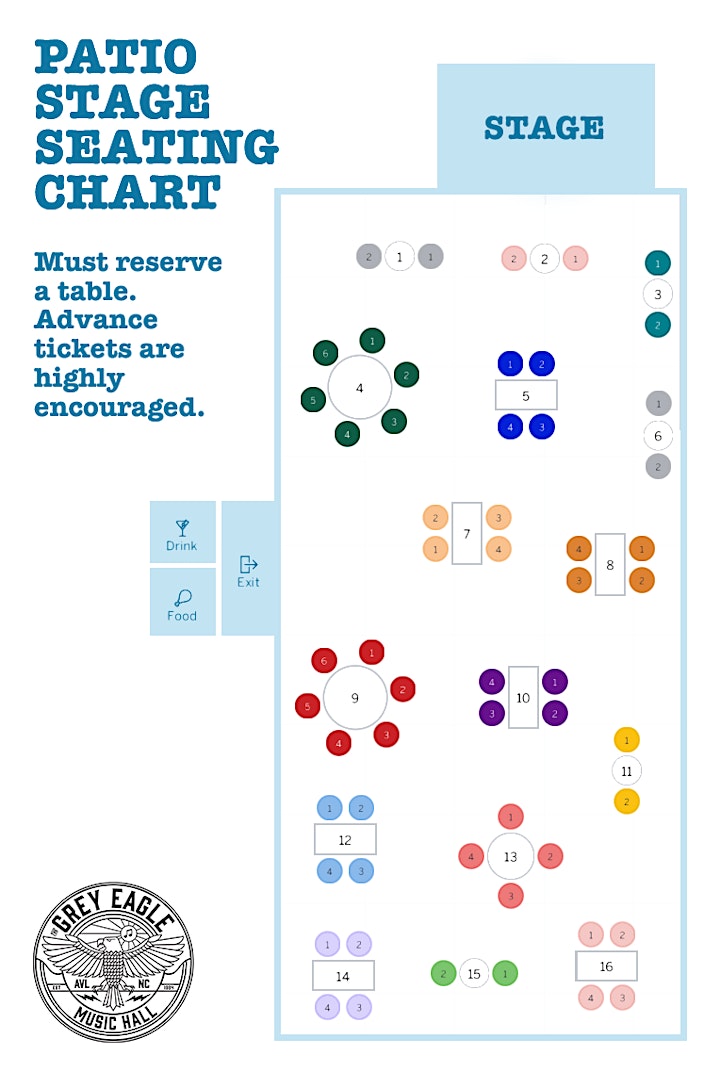 Venue Information:
The Grey Eagle
185 Clingman Ave

Asheville, NC, 28801