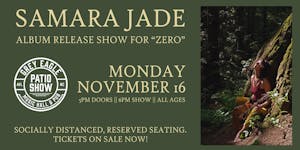 Presented by The Grey Eagle
PATIO SHOW: Samara Jade Album Release Show
Samara Jade releases her new album "Zero" on the GE patio stage on 11/16! A very limited number of reserved seating tickets are on sale now.
PATIO SHOW
6PM SHOW
ALL AGES
RESERVED SEATING
"I may be a nut, but don't try to squeeze me into a nutshell," Samara sings in a song from her first record. Though she's always been somewhat of a social misfit and nonconformist, everyone always needs to know who are you and what kind of music do you play? To which she might respond: a modern folk troubadour and multi-instrumental musical seamstress who stitches together a unique tapestry of strands colored by folk, jazz, blues, world-fusion and even Broadway musicals. Need a single word genre? Let's try "Philosopholk."
Inspired deeply by the brave spelunking into the depths of the human psyche and listening sharply to and appreciating the wonders of the natural world, Samara's music comes from the place where her soul meets the soul of the earth. Bird language, fermentation, natural burials, heart-break - who can broach such a vast array of quirky yet relevant subjects wrapped in a bundle of personal narrative and musical expertise but Samara Jade? Leave it to Samara to slyly pick up a thread of an interesting conversation and come back an hour later saying "I have a song" - and likely it's one that gets you dancing, laughing, crying, singing along - perhaps all at the same time!
Originally from the Hudson Valley, Samara studied guitar on scholarship at Berklee College of Music for a year before heeding the call of the Blue Ridge Mountains of North Carolina and pursuing a more earth-based path. Though she studied environmental education and worked organic farming gigs for many years, nothing could keep this bird from singing, and by a decade later she had released three albums and become a fixture in the Asheville music scene. Upon turning 30 and perhaps hitting a ⅓-life crisis, Samara moved into her van and toured out to the west coast. Utterly wooed by the forests and mountains of the Olympic Peninsula, she's been loosely anchoring there amidst touring up and down the coast and questioning the concept of "home." The Covid-19 lockdown found her quarantining at an artist residency in Arcata, California, where she self-recorded her fourth album, "Zero," to be released November 15th.
Straight from the source of flowing rivers, old growth trees and mountain peaks, and delivered with an emotive voice, intricately groovy guitar riffs, catchy melodies and a clever intellect, Samara's songs are grounding medicine for these wild and shifting times. Thanks to the neural networks of community singing and song sharing, as well as the 2019 release of her meticulously orchestrated folk epic "Wave of Birdsong" by California record label Jumpsuit Records, many of Samara's songs have spread far and wide (much like the helicopter seeds of maple trees - not coincidentally, called "samaras"), and she is honored to follow in their footsteps.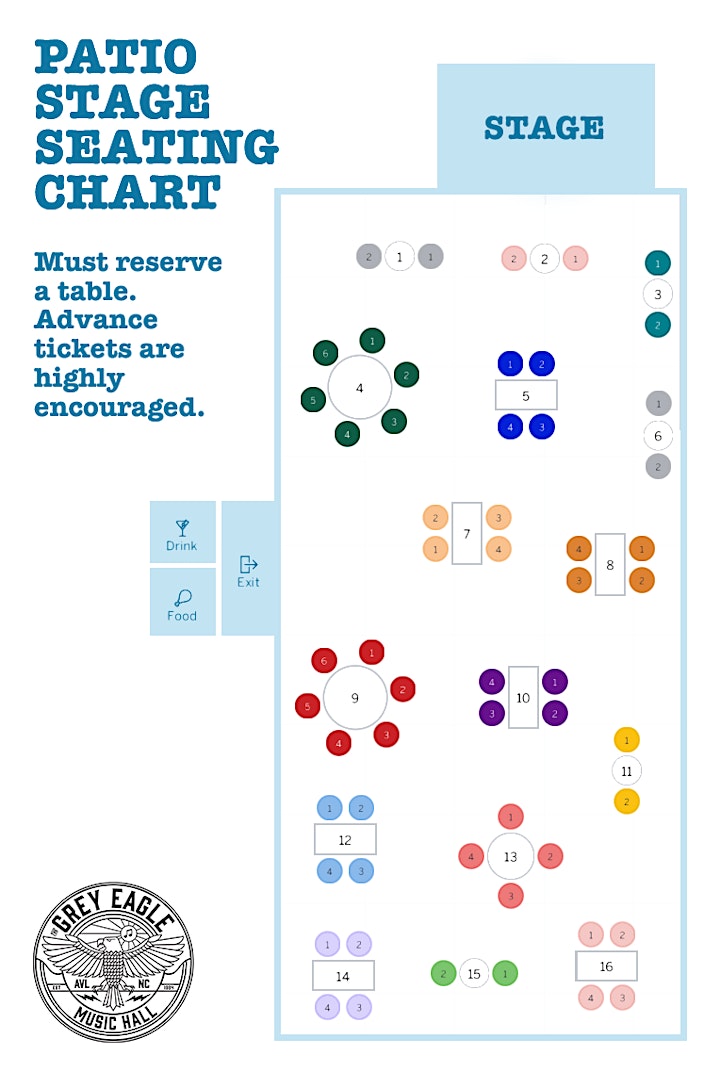 Venue Information:
The Grey Eagle
185 Clingman Ave

Asheville, NC, 28801