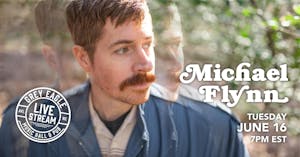 Presented By The Grey Eagle & Worthwhile Sounds
LIVE STREAM: Michael Flynn
Michael Flynn live from The Grey Eagle in Asheville, NC! Live streaming on The Grey Eagle's Facebook page.
==================
Michael Flynn is a singer/songwriter most often found yodeling his way through the hills of Saluda NC. His songs have been featured on shows like Grey's Anatomy and Shameless, and on commercials for useful products like cars and shampoo. He's also won a few awards for songwriting, including 1st runner up for the John Lennon Songwriting Scholarship in 2001. His band Slow Runner has released 5 full length albums, an EP, and several singles. They spent some time on one of SonyBMG's labels and have toured internationally with acts like The Avett Brothers, Josh Ritter, Built to Spill, William Fitzsimmons, and many others.
Michael released his first solo album, 'Face in the Cloud,' in 2014. His new album is called 'Pretend Like' and was inspired by the harrowing twists that come from a life with a young kid, aging parents, and a country that can't fit into its jeans anymore but refuses to admit it. He consistently threatens to someday write a self-help book called 'Stop Trying to Look Like What You Used To Look Like And Just Look Like What You Look Like!' but none of his friends actually think he'll follow through.
==================
Venue Information: