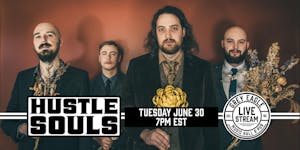 Presented by The Grey Eagle and Worthwhile Sounds
LIVE STREAM: Hustle Souls
Hustle Souls live from The Grey Eagle in Asheville, NC! Live streaming on The Grey Eagle's Facebook page.
FREE LIVE STREAM
7PM SHOW
DONATIONS ACCEPTED
VIRTUAL TIP JAR : Paypal.me/TheGreyEagle
VIEW LIVE STREAM HERE : facebook.com/greyeagleasheville
Hustle Souls is an Asheville, NC based soul/rock band who fuse nostalgic soul and dust-covered-vinyl aesthetics with modern sensibilities; recently named one of "Music Connections" Hot 100 Live Unsigned Artists & Bands. Driven by a lust for songwriting, the band's fervid live performance is heightened by undeniable instrumental prowess and 3 part vocal harmony. With relentless touring, sold out shows and major festival appearances the band has earned a reputation as one of the East Coast's most promising up-and-coming acts.
After releasing a live video series, the band was approached by gold and platinum mixer and producer Eric "Mixerman" Sarafin (Ben Harper, Pharcyde etc.) about making a record. Hustle Souls released their debut full-length album "Color" to a sold out crowd and are currently touring from Atlanta to Boston in support of the 10 song LP and plan to release a follow up EP in the fall of 2020.
Venue Information: