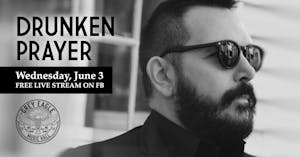 Presented By The Grey Eagle & Worthwhile Sounds
LIVE STREAM: Drunken Prayer
Drunken Prayer live from The Grey Eagle in Asheville, NC! Live streaming on The Grey Eagle's Facebook page.
==================
DRUNKEN PRAYER
Morgan Geer, the songwriter behind Drunken Prayer, is the current guitar player for iconic alt-country goths, Freakwater. He's recently been touring internationally solo with The Handsome Family.
Morgan was born in San Francisco and grew up traveling around the US, following his folk-singing mother. Today he splits time between Portland, OR and Asheville, NC. He's lived in nearly every region of the country and sounds like it. His is American music – straight, no irony chaser.
Drunken Prayer will likely bring to mind The Band for a lot of listeners, with the sense of place and history. But Morgan Geer's songs and his singing often suggest a kinship with artists like Bobby Charles or Doug Sahm, musicians with Southern roots, with a yip and break to their voices, and notes of sadness offset by a wicked sense of humor.
Over the past two years Drunken Prayer has played hundreds of shows across 18 countries and across the US at venues such as the Pickathon Music Festival and San Francisco's Great American Music Hall. Geer's music has been featured on AMC, NPR, WFMU and SiriusXM.
The new Drunken Prayer album, Cordelia Elsewhere, was mixed by Mitch Easter (Let's Active, REM) at The Fidelitorium in rural North Carolina. The music on Cordelia Elsewhere is a maverick descendant of outlaw country. These are stories of superstition, civil war and "triple stacks blocking out the sun". The songs collectively bare witness to life on frighteningly shaky ground.
==================
Venue Information: