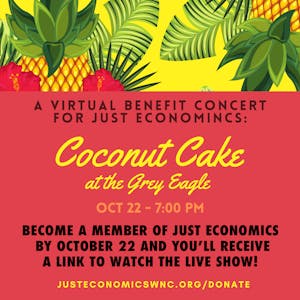 Presented by Just Economics & The Grey Eagle
Coconut Cake: A Virtual Benefit Concert For Just Economics
$10.00 - $30.00
Unavailable
Just Economics presents a virtual benefit concert featuring music from Coconut Cake streaming live from The Grey Eagle!
This is a virtual event. There is no live audience.
Live Streaming with assistance from IAMAVL.
To watch the live streamed show, you can purchase a Just Economics membership ($30) at https://www.justeconomicswnc.org/donate. A link to view the live stream will be emailed to you after you've completed your membership purchase.
COCONUT CAKE
Coconut Cake ​plays rumba music - inspired by post-war radio broadcasts of imported son cubano recordings, and rearranged and performed by legendary Congolese musicians in the 50s and 60s.

Led by guitarist/multi-instrumentalist Michael Libramento, this Asheville, NC based ensemble pays enthusiastic tribute to Congo's great dance bands and pioneers of African rumba: Franco & OK Jazz, Rock-A-Mambo, Grand Kallé, Bantous de la Capitale, Tabu Ley, and more.

Venue Information:
The Grey Eagle
185 Clingman Ave

Asheville, NC, 28801