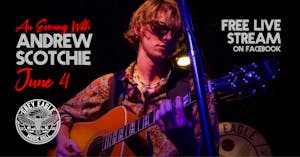 Presented By The Grey Eagle & Worthwhile Sounds
LIVE STREAM: An Evening With Andrew Scotchie
An Evening With Andrew Scotchie live from The Grey Eagle in Asheville, NC! Live streaming on The Grey Eagle's Facebook page.
==================
The story of Andrew Scotchie & the River Rats began in 2011 when Andrew began the project busking on the streets of his hometown of Asheville, NC. Since then the band has transformed from an acoustic street duo into the current setup of a full electric power trio. The current lineup of Andrew Scotchie (Vocals/Guitar), Eliza Hill (Drums) and Keith Harry (Vocals/Bass) came to be in early 2016 and since then have been revered far wide for their engaging, interactive High-Energy, Funk-ti-fied Rock n' Roll show. Couple the abilities and in the moment spirit of a jam-band with a punk rock fierceness and energy, and you'll get a show that will have familiar songs but with a twist that offers a listener something only in that moment.
2018 in particular brought the band many new opportunities traveling to previously untapped regions to connect to new fans, especially after the release of our latest and most eclectic album, Family Dynamo. Last year the band toured up and down the East Coast from Florida to New York, electrifying and magnetizing fans and new folks alike with the live show and new record. Some notable venues along that trip include The Grey Eagle, 1904 Music Hall, Visulite Theatre, Brookfield Place, The Pour House, Barter Theatre, Floyd Fest, and the Purple Fiddle. 2019 has already taken the band to new heights and places. The band wrapped up a month long "Winter Out West Tour" in February with a sold out show in Steamboat Springs (Old Town Pub), and many other highly successful and impactful shows in Missouri, Kansas, Colorado, Utah and Idaho. Building on the success of that winter tour the band took to the van again for the follow up Summer Out West Tour. The summer tour took them to many of the same places as the winter tour, but with new stops in Helena, MT and Jonesboro, AK.
Consistent studio recordings, year round touring, earnest songwriting & sharing show bills with such greats as Sonny Landreth, Blind Boys of Alabama, Drivin N Cryin, Ghost Light, Eric Gales, Big Daddy Love and Bettye Lavette has made Andrew Scotchie & the River Rats one of the industry's fastest growing Rock n Roll bands, and WNC's best Rock band 5 years running. Rolling Stone's Garret Woodward gave mention to the band in his coverage of Warren Haynes' Christmas Jam stating that the band is "starting to make a name for themselves on the national scene".
==================
Venue Information: